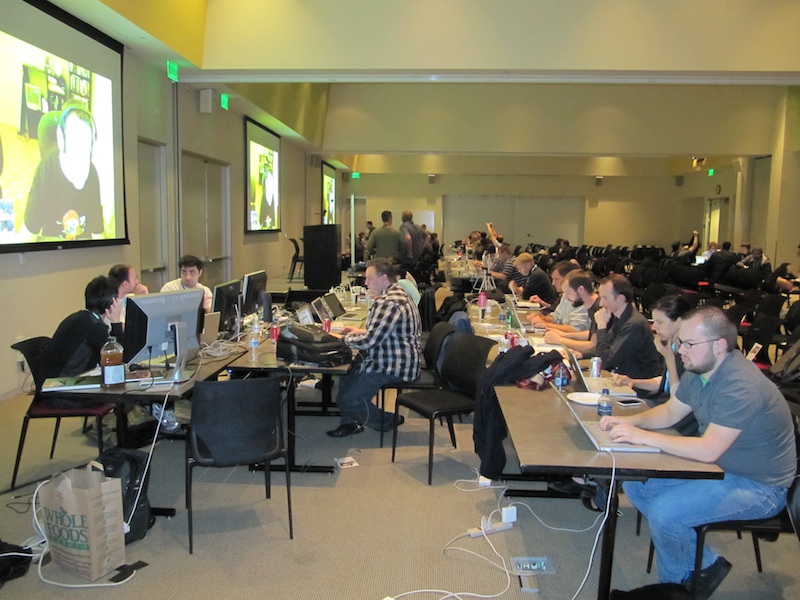 Photo from TouchArcade (its me on the big screen ;-))
In a few days from now (on the 9th of november to be exact) will be the third
360iDev
GameJam and I though ill share my experience from the last one that was held earlier this year on April 14th. Also what can be expected from this kind of event and a few tips to help you be ready for this awesome event. But before we discuss it further here is some important information for the upcoming one.
360iDev GameJam
Start :
November 9th (start from 20:00 CDT)
End :
November 10th (end at 08:00 CDT)
Location :
Austin, TX (at the
360iDev
conference if you're local) or anywhere in the world (YES this time it went global!)
Theme :
TBA
Web site :
http://gamejam.360idev.com/
Twitter tag :
#360idevgj
Now that you know the details, its time to free up your agenda and be ready to spend a 12h of pure adrenaline rush to work on a game with the theme that will be selected by the organizer (which should be announce shortly before the even start).
Let first go back in time and take look at the origin of this event that was first held at the Denver 360idev in 2009.
Originally this wasn't part of the schedule, but during the
360iDev
Noel Llopis aka as
@snappytouch
came up with the idea of doing a iPhone GameJam. After discussing with the organizer of the
360iDev
it got a green light and on the 29th September around 15 - 20 iDev got packed in a room to spend the entire night coding ;-). I also think we should all say a big thank to Noel Llopis
(@snappytouch
) for pushing for this idea and helping making it a success and of course the
360iDev
crew for believing in the idea and help make it happen.
There was even a site that was set up so that people could post their progress which have allowed people not attending to have an ideas of what was going on (
iPhone GameJam
). Even though the event was supposed to be only for the people attending
360iDev
@owengoss
had the opportunity to participate remotely and he came up with UpDown which has now became the great
Landformer
.
Wonder how crazy it was at the first one and if people have enjoy it? Well take a look at the following video (check out the other videos
here
), those plus the following reports really sold me to this kind of event and that I had to find a way to participate at the next one.
After the success of the first Game Jam it was to be expected that they probably gonna be another one at the next
360iDev
in San Jose. And surely it did, but this time it went more bigger as
TouchArcade
became a sponsor for it and they even open up a
forum
dedicated to it!
I was thinking ill be able to attend it, but due to budget and renovation project at home it wasn't to be. But then I got the idea that maybe I could participate remotely as
@owengoss
did, so after discussing it with
@snappytouch
and
360iDev
organizers I was allowed to do so ;-) (thank you so much for everyone that made it possible!).
How did I liked the experience? I loved it! It was really great to be part of it, of course it would have even be better to be there sitting in that room with the others, but still had fun seeing people via the webcam. Sadly I couldn't see people the entire night as we had a few hiccup with Skype and it went down for several hours :-(. And due to bad timing (decided to go bathroom while
@snappytouch
was trying to reach me via Skype) I couldn't show my working prototype of
TinySpaceThing
. But the adrenaline rush I had for spending the entire night working on my game is priceless!
What did I learn from this experience and what are my recommendation? Well first be ready for a very long night without sleep ;-), so the best is to have got some good rest in the days before. Be sure that you wont bother the rest of your family (I've let my wife to sleep in our guest room so she don't hear me talking or making noise). Something to keep you hydrated and stimulated is definitely required, for me it was green tea (you might want read my article about it
here
). And of course some snacks as you might feel hungry in the middle of those long coding ;-).
Look familiar? The official snack for my GameJam session ;-)
The other important thing I've learned is to keep focus on the task at hand, and move quickly on decisions. I found I wasted a lot of time just to came up with the name of my game and jungle with a lot of ideas in my head on where the project should be headed, etc... Trouble is, it only last 12 hours so every minutes count! So ill say in this kind of situation just make a decision and move on, this is not the time to take decisions by committee. Its ok as I consider this a learning experience and this is not a contest where you can really win prize or something (but they may have some pride involve to complete something good). Just do it for the fun, as this whole thing should be fun and you should enjoy it ;-). It might also be a good idea to try
prototyping ideas in other ways
then directly in code, this might even save you some time. And a very good idea to think about doing some kind of
Rapid Prototyping
too ;-). Don't forget to also share your progress with everyone this is always fun too!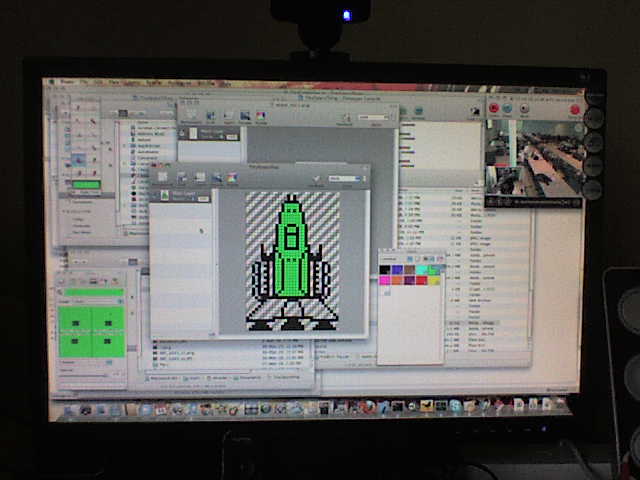 Another thing I've learn in doing GameJam sessions (but this tips come from my participation in
Ludumdare #17
), was to stick to tools/technologies you know. In my last
360iDev
GameJam I decided to stick to some simple stuff with Objective-C + Cocoatouch which I am getting more and more familiar with. But when I jump on the
Ludumdare #17
as it wasn't recommended to do iPhone development I decided to go with Mac OSX... trouble is I didn't have really much experience with this and went and pick up SDL (I already did stuff on GP2X+Linux+Windows with this), how hard can it be? Well I wasted a lot of time on just getting my dev. environment to work and compile something. Then had to see how SDL integrate with regular OSX stuff, then just to make sure I made the whole process more slow I started to have crazy ideas of making a larger scale game (a rogue type). Hey at that time I was thinking, I have a whole week-end to do this! Well time fly faster than you think and before you know it, time is up.
So how did the second
360iDev
Game Jam turn out? Well if the video or following reports are any indication I think it turn out really great!
360iDev
Game Jam were great and a lot of fun, but did you know this time around its even more amazing? Well one of the major news that was announced earlier in the week was that it was gonna be
sponsored by fellow indie devs
, YES an event for indies organize by indies and sponsored by indies! This is a really great community and I really love it! Everyone should definitely join us in the fun on November 9th even if you are doing remotely like me. Looking forward to see all of you participate in the
360iDev
GameJam!
Disclaimer :
No I am not affiliated with
360iDev
and I just want the GameJam to be a success and let everyone join the fun ;-).
This post is part of iDevBlogADay, a group of indie iPhone development blogs featuring two posts per day. You can keep up with iDevBlogADay through the web site, RSS feed, or Twitter.